Company: Anhui i-Sourcing International Co.,Ltd
Brand: iSuoChem®
iSuoChem
, a leading resins, additives and adhesives supplier in the inks and coatings chemical industry, is gearing up for a remarkable presence at ChinaCoat 2023, reinforcing its commitment to serving both new and loyal customers. This annual exhibition is a significant event for iSuoChem as it offers a unique opportunity to showcase their products and engage with industry professionals.
ChinaCoat 2023: A Meeting Point for Chemical Industry Enthusiasts
ChinaCoat is a premier international event that brings together professionals from the coatings, inks, and adhesives industries. Scheduled to take place from
November 15 to 17, 2023
, this year's event promises to be a major gathering for businesses and individuals looking to explore the latest trends and innovations in the realm of raw materials. The event will be hosted at the esteemed Shanghai New International Expo Center (SNIEC), providing a fitting backdrop for iSuoChem to shine.
iSuoChem at Booth E6.J41
: No matter you're interested in Pigments, Resins, Additives, Adhesives or even Solvents. Welcome to visit us to acquire more market informations.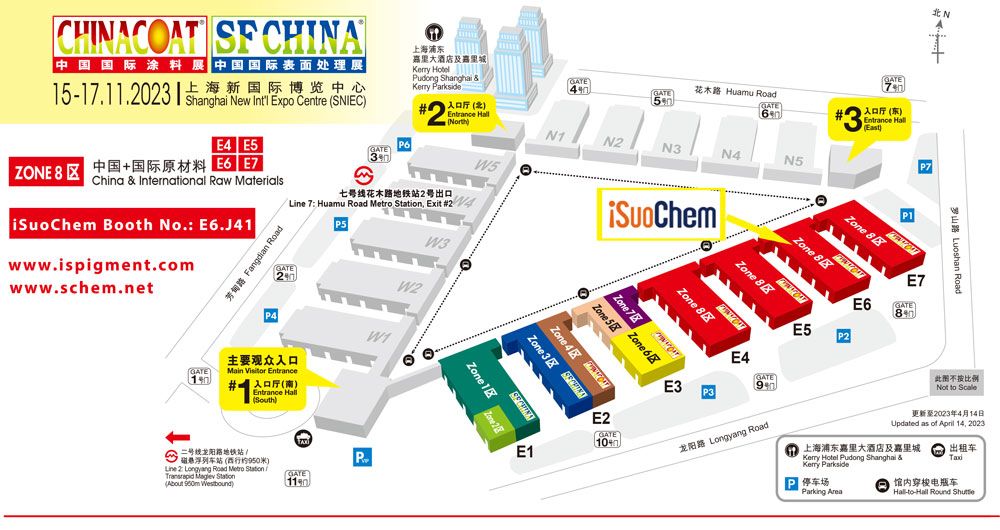 What to Expect at iSuoChem's Booth?
Product Showcase:
iSuoChem will proudly present its latest offerings, allowing visitors to witness the quality and diversity of their raw materials.
Expert Consultations:
iSuoChem's team of experts will be on hand to provide insights and recommendations tailored to your specific needs.
Networking Opportunities:
This event is not only about products but also about fostering valuable connections. iSuoChem is eager to engage with new and existing customers, sharing ideas and exploring potential collaborations.
A Step Towards the Future
iSuoChem's participation at ChinaCoat 2023 is a testament to its dedication to serving its customers and pushing the boundaries of what's possible in the chemical industry. As the exhibition dates draw nearer, the excitement builds, and iSuoChem eagerly anticipates the opportunity to connect with industry peers, exchange knowledge, and pave the way for a more sustainable and innovative future.